Mites 18 - 26 months
In this fun parent participation toddler soccer class, early socialization and coordination is developed through a series of games. We use a wide variety of props to delight and engage the toddlers including balloons, parachutes, hoopla hoops and many more. The focus is to develop simple motor skills.
"My daughter absolutely loves the classes!!! It is a great social experience." Kimberly A.
Mighty Mites 24 - 36 months
In this parent participation toddler soccer class, age appropriate balls are used to introduced the early skills of athletics in a fun and exciting manor. Many props are used in addition to enhance both their balance and motor skills. Through repetitious games the coaches engage the children's imagination and encourage their creativity.
Peewees 3 year old beginners
In this 3 year old beginner class, the tots participate independently for the first time. With a low player-coach ratio, the children gain confidence and develop listening skills. The classes are fast paced and focus on developing balance, movement, and motor skills. Fun is stressed above all else.
"It's great for kids my little guy loves it! Signed him up for winter now it's time for spring sign up. I'm happy there is one in Bethlehem, I always loved the Colonie one as well." - Monique G.
Tykes 3 - 4 years old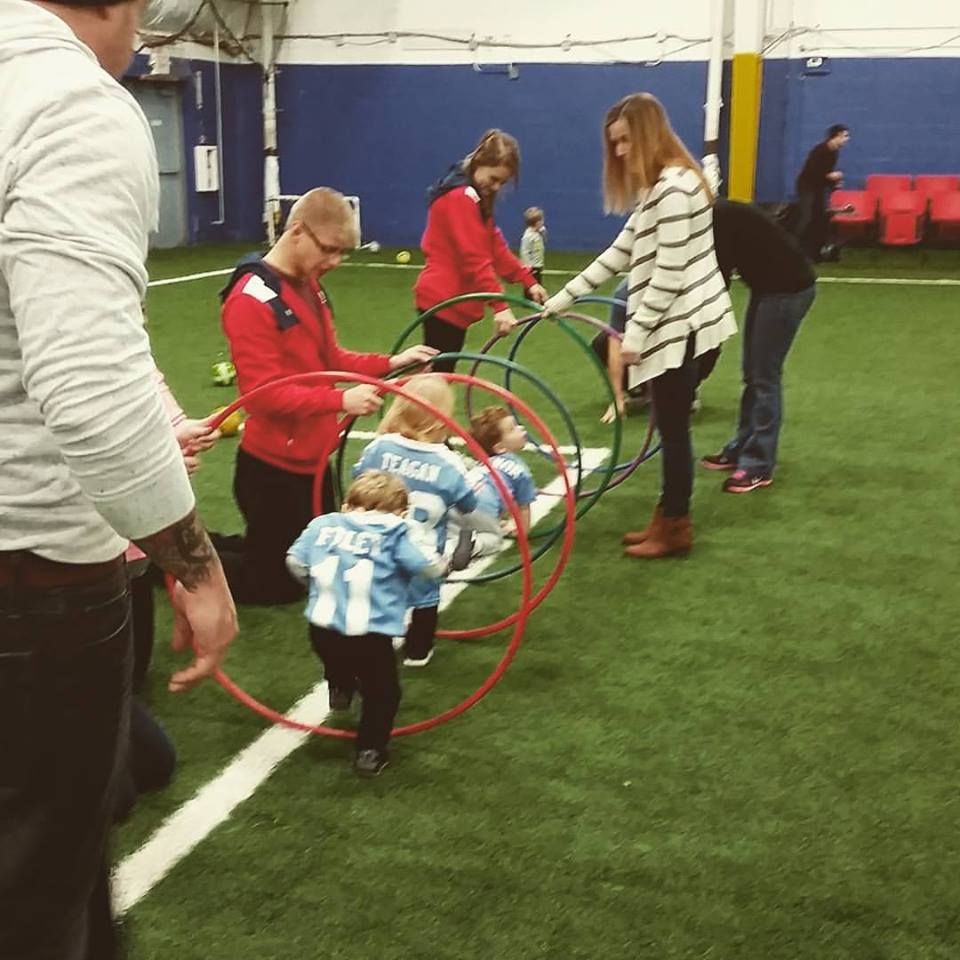 This exciting class begins the development of kicking, dribbling and running control, all while playing creative and fun games. Basic ball control is taught while the tykes navigate through moon craters and dinosaur eggs. Teamwork is also introduced as they work together to place all the zoo animals back in their cages.
Turbo Tykes 3.5 - 4.5 years old
This is the progression class for our tykes class where the children are challenged with new exciting skills and concepts. The classes are high paced, engaging, and educational. Individual motor skills and fitness are the emphasis in this class.
"My son plays soccer on Sunday morning and we love it. We also go to open bounce on Fridays." - Katrina M.
Heroes 4.5 - 5 years old
This class is designed to help introduce team play in a non-competitive environment. The un
iquel
y cr
eat
ive games we use, develop soccer fundamentals
and encourage team work. Some small-sided scrimmages are introduced where the focus is to help players understand how to apply skills in different situations.
Super Heroes 5 - 6 years old
While still using certain props, soccer basics are reinforced which include dribbling, passing and shooting. Other games are also played to work on foot-eye coordination and balance. Small-sided scrimmages are continued and the idea of sportmanship is introduced.